vine tea extract dihydromyricetin 98% DMY CAS NO.27200-12-0
MSDS/COA Download

FOB Price: USD: 65.00-72.00 /Kilogram Get Latest Price
Min.Order: 1 Kilogram
Payment Terms: T/T,Western Union
Available Specifications:

98%(1-10)Kilogram98%(10-25)Kilogram98%(25-100)Kilogram98%(101-1000)Kilogram

Keywords
dihydromyricetin
98% dihydromyricetin
dihydromyricetin capsule
Quick Details
ProName: vine tea extract dihydromyricetin 98% ...
CasNo: 27200-12-0
Molecular Formula: C15H12O8
Appearance: white fine powder
Application: 1.Vine tea extract can protect liver a...
DeliveryTime: within 5 day
PackAge: 25kg/drum (25kg net weight,28kg gross...
Port: Changsha
ProductionCapacity: 1 Metric Ton/Week
Purity: 98%
Storage: Stored in a cool and dry well-closed c...
Transportation: BY AIR/SEA/CAR
LimitNum: 1 Kilogram
Plant of Origin: vine tea
Testing Method: HPLC
Product Ecification: 98%
Heavy Metal: PPM
Voluntary Standards: CP
Grade: pharmaceutical grade: C/O:CHANGSHA
Superiority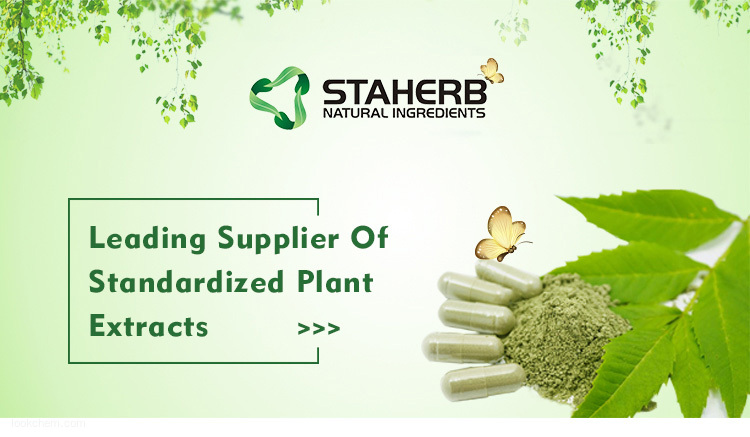 Vine Tea extract Dihydromyricetin

| | |
| --- | --- |
| Product Name | Dihydromyricetin |
| Source | Vine Tea |
| Used Part | leaf |
| Testing | HPLC |
| Purity | 1%-98% |
| OEM | Accepted |
| Storage Life | Up to 2 years |
Vine Tea Extract Dihydromyricetin has the strong inhibitory action of the rise of ALT and AST in the blood Serum. It can low the total bilirubin in the blood serum. So it has the strong action of lowing the aminotransferase and jaundice. The Vine Tea Extract Dihydromyricetin can restrain the liver fibrosis in the rat. It helps recovery from drunk and greatly reduces hangover symptoms. Widely used in medicine preparation of respiratory tract infection and alcohol intoxication.
Vine Tea Extract Dihydromyricetin doesn't just prevent you from getting drunk, but can actually sober you up after a night of drinking. It does this in two primary ways:
1.It blocks alcohol's effect on your GABAa receptors, preventing the increased effect of GABA from causing the negative symptoms commonly associated with drunkenness.
2.It causes the liver to metabolize alcohol more quickly, lowering your BAC and causing you to be fully sober more quickly.
Vine Tea Extract Dihydromyricetin is the most effective hangover cure currently on the market, and when combined with the age old advice of staying hydrated, will prevent hangovers in almost everyone. Vine Tea Extract Dihydromyricetin (DHM) isn't just useful and counteracting intoxication or preventing hangovers, but also helps to reduce the liver toxicity caused by alcohol consumption. While numerous studies have reported on the liver-protecting properties of the hovenia dulcis fruit, a recent study identified Dihydromyricetin as the responsible compound.
Vine Tea Extract Dihydromyricetin also restrains the absorption of alcohol in the gastrointestinal tract, causing less of the alcohol you consume to reach your brain in the first place.
One of the most exciting finds of recent research on Vine Tea Extract Dihydromyricetin is that it may have potential for treating alcoholism by lowering the desire to drink. While more research is needed to confirm if it will be useful for this, a recent study has shown that Vine Tea Extract Dihydromyricetin counteracts signs of alcohol withdrawal including tolerance, increased anxiety, and susceptibility to seizures.
Method: Stored in a cool and dry well-closed container,keep away from sunshine and strong light/heat
Package Information:1KG/Bag, 2kg/bag, 5kg/bag,25kg/drum and 28kg/drum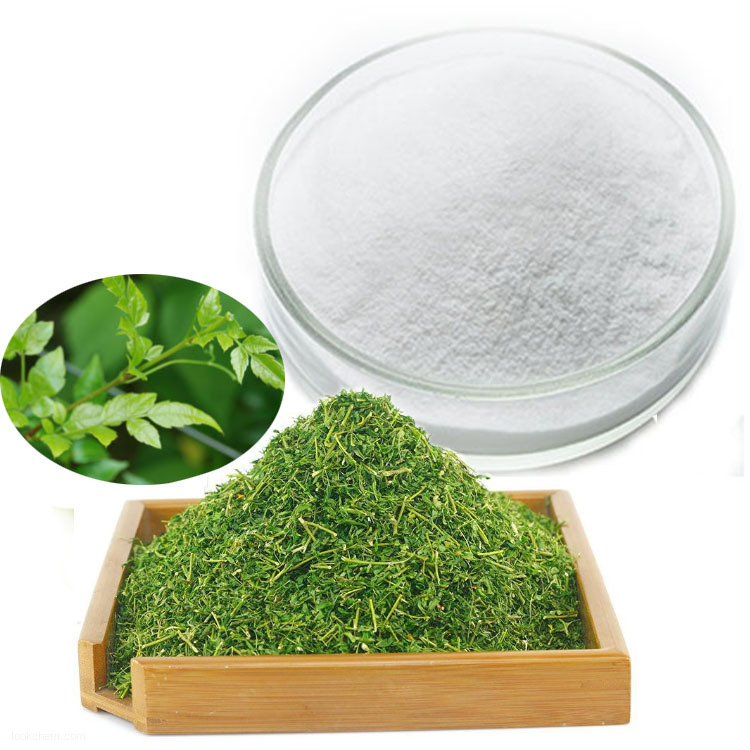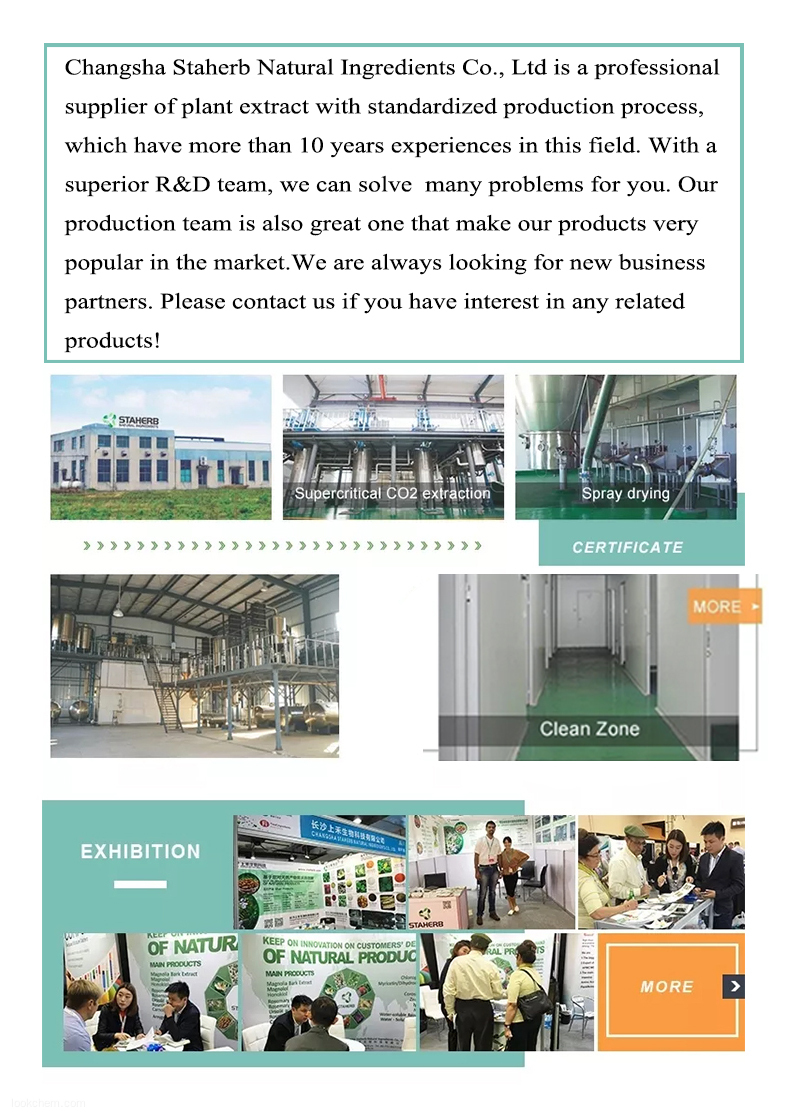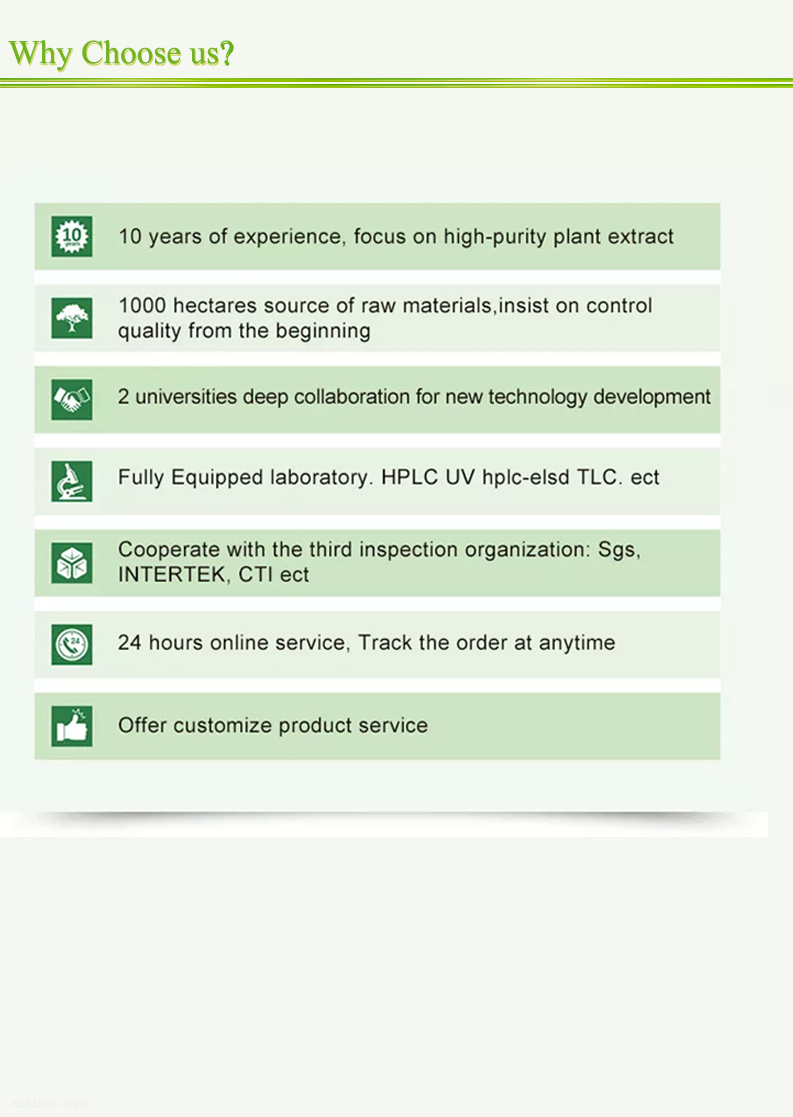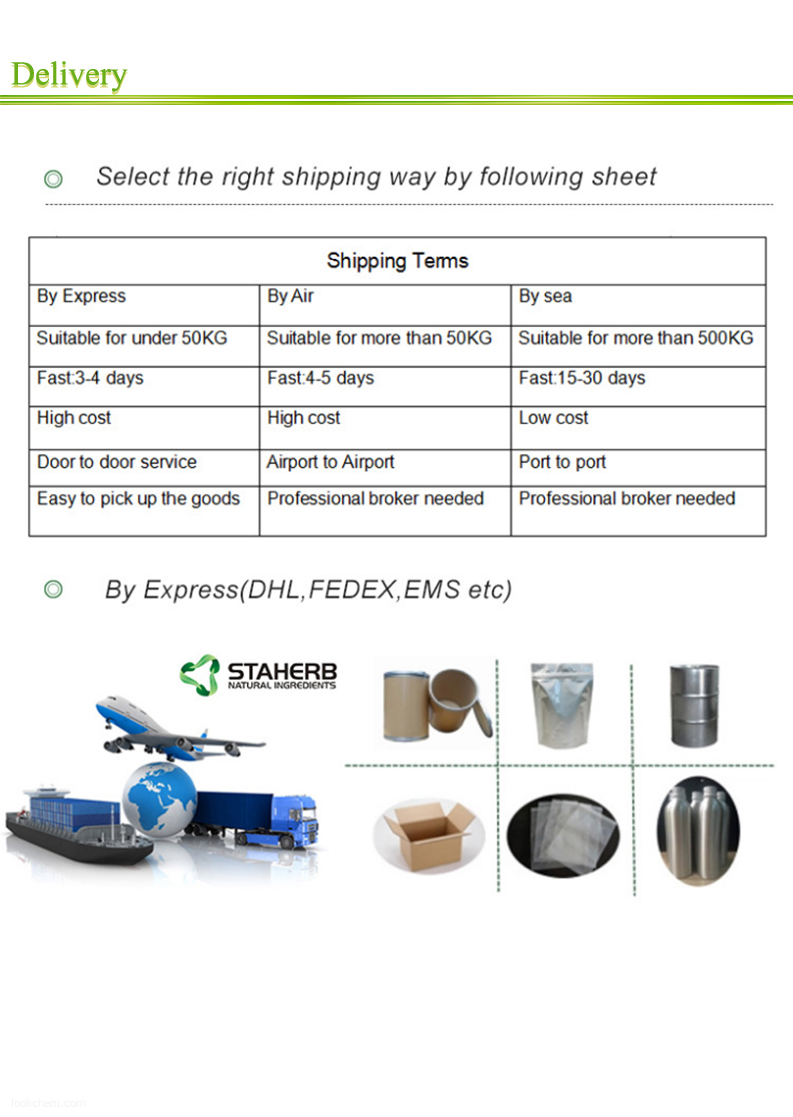 Details
English name: Vine tea extract powder dihydromyricetin.
Other names: Ampelopsin, ampeloptin
Chemical name: (2R,3R)-3,5,7-Trihydroxy-2-(3,4,5-trihydroxyphenyl)chroman-4-one
Botanical origin: Ampolopsis grossedentata W.T.Wang.
Part of the plant used: Stems and Leaves
Specifications: Dihydromyricetin ( DMY ) 50%, 80%, 90%, 98% (HPLC)
CAS No. :27200-12--0
Molecular structure & weight: C15H12O8, 320.25
Extract solvents: Ethanol & water
Appearance: Fine white crystalline powder for the 98% above, the low content powder is light greenish white.
Solubility: easy soluble in hot water, hot ethanol and acetone, soluble in ethanol, methanol, slightly soluble acetic ether, insoluble in chloroform, petroleum ether.
Stability: stable in heat, but when heated to 100°C above, it will be oxidized irreversibly. It is stable in acidity and neutral.
| | | | |
| --- | --- | --- | --- |
| Product Name: | Dihydromyricetin | Formula Weight: | 320.25 |
| Cas No: | 27200-12-0 | Part Used: | Leaf |
| Formular: | C15H12O8 | Source: | Ampelopsis grossedentata (Hand.-Mazz.) W. T. Wang |
ANALYSIS

SPECIFICATION

Appearance

White powder

Odor

Characteristic

Assay Dihydromyricetin By HPLC

98%

Sieve analysis

100% pass 80 mesh

Loss on Drying

Residue on Ignition

≤1%

≤1%

Heavy Metal

<10ppm

As

<2ppm

Residual Solvents

Eur.Pharm.

Microbiology

Total Plate Count

<1000cfu/g

Yeast & Mold

<100cfu/g

E.Coli

Negative

Salmonella

Negative